A 3-week experience to come learn about Modular Constructive Systems through the assembly process of the first bungalow on the land, designed by Alberto Kalach.
April 23 - May 14 2022 | Malpais, Costa Rica
This is an invitation for you to join and to play a key-role in the development of a sustainable project, work and learn from a team of experts in the field, as well as share your skills with them. Our goal is to promote collaboration and diversity, and to share integrated experiences within Zūnya.
The Bungalows are designed by Alberto Kalach (TAX Studio) recognized as one of the most talented Architects in Latin America. He has earned his reputation through a unique trajectory of more than 30 years. With experience both in the private and public sector, having designed icons and landmarks both in Mexico and around the world. Alberto, agreed to collaborate in the design of the Master Plan and of the bungalows using the regenerative LandScape and Hydrological studies as the blueprint behind the design and distribution for the co-creation of Zūnya.
An opportunity to learn through the build-up and assembly process of the first-ever bungalow at Zūnya. This marks a significant stage and chapter in the project, which we would love everyone to be a part of.
. 1 week minimum stay with the option to extend up to 3 weeks
. Learning about Modular Constructive Systems through the assembly process of the bungalow
. Talks & workshops centered around architecture, design and regeneration from experts in the field
. Unlimited access to the ongoing Zunya signature program
Accommodation prices range between the following:
. 1 week: $663 - $1,677
. 2 weeks: $1,253 - $3,144
. 3 weeks: $1,769 - $4,404
. Daily breakfast and lunch with the team of Zūnya collaborators
. Access to Zūnya's ongoing signature programming which is all centerd around art, well-being, nature, connection as well as
. Access to communal kitchen and co-working space
. Unlimited access to kayaks
. Secluded beach bay access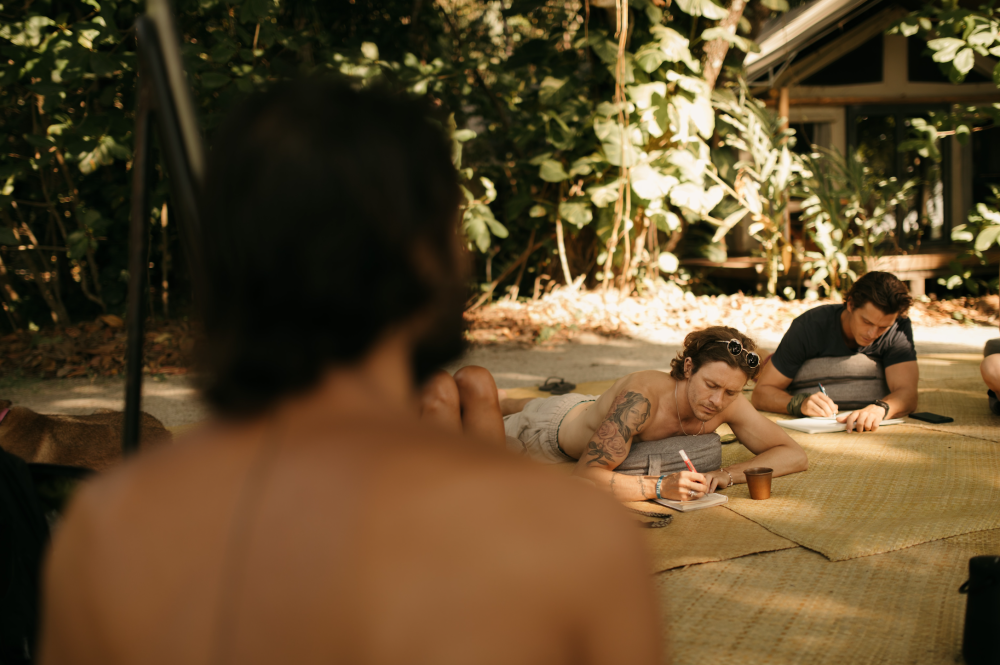 We are committed to finding more sustainable ways to build, and we have chosen to develop Pre-fabricated Modular Constructive Systems (PMCS) that can enable us to have a much more efficient process.
Manufacturing the PMCS structures enables us to simultaneously deploy our service grid, land movement, pathways and prepare the foundations to receive our structures. The development of this construction systems could be considered a Soft Tech, which will allow us to offer these unique sustainable pavilions to other communities and third parties around the world selling unique designs that could be manufactured and assembled around the globe.
You will be immersed in a 33 hectares untouched jungle sanctuary. Zūnya is hidden away from prying eyes in the town of Malpais, a secluded spot on the southern tip of the Peninsula of Nicoya, the region is one of only five blue zones in the world. Malpais prides itself on its amazing surf and for its decadent mix of unspoiled beaches, private coves, waterfalls, and dense rainforests. The town of Malpais is the perfect hideaway, for those looking to discover an authentic Costa Rica.
Zūnya is a growing regenerative system, a 2.0 version of an ecovillage, using tools such as arts, science, technology, sustainability, and spirituality to enhance our way of living, as we reconnect with nature, ourselves and each other. You will join a collective of individuals from various backgrounds and origins in the process of co-creating a new way of life. Your visit is an invitation to join the family and embark on this journey.
The collective at Zūnya offers a variety of services that you will have the possibility to experience during your visit at an additional cost:
. Personal photoshoot
. Bikes
. Biomagnetism
. Reiki healing
. Sound healing
. Breathwork
. Massages
. Zip line
. Boat ride
. Horse backriding
And more...
Frequently asked questions
Do I need to join the full 3 weeks?
No, we require a minimum 1 week stay. You can choose to do 2 or 3 weeks if you'd like.
Do I need to have previous experience in construction/building?
No you do not. However, if you do, we would appreciate you letting us know in the form.

What are the current entry requirements to Costa Rica?
As the requirements are in constant evolution due to Covid-19, we invite you to visit the official website of the Costa Rica Tourism Board for up-to-date information.
How do I get to Zūnya from the San José and Liberia International Airports?
There are several options to help you get to Zūnya which you can find in our paper.
What should I bring to Zūnya for my stay?
Please visit our Informative Booklet for more information on what to bring during your visit.
Do you have a working area with a strong Wi-Fi connection (and how fast is it)?
Yes, we have a new space called El Núcleo, which offers access to fiber-optic internet, desks, and plugs located right on the beach.