Artist in residency - Ana Paula
Pictures by Ana Paula
Interview by Valentine Dreyfus
Can you describe yourself in a few words?
I am a person who's passionate about human behavior and the works of the natural universe, the role we play in it, the wholeness, oneness, and nothingness which we sometimes forget we belong to. I find comfort in philosophies that emerge from this concept. I absolutely love science and art's way of helping us understand life and our emotions.
Photography has become my main form of communication on these subjects.

Many times, feelings of unworthiness and insecurity can absolutely consume my mind, but it's a cycle that I've carefully learned to analyze, and I trust that I can turn it around if I set my intention to it. It's an everyday reminder to keep getting up in the morning and finding that balance.
This way of being has also given me the drive to find creativity in my life. I enjoy being creative and using my imagination to get to different places in my head.
I believe in the humanitarian faith of doing good for ourselves and what surrounds us.
At what age did you start shooting and what was it that sparked this passion?
I began exploring photography when I was about 15 years old. I'm currently 34.
My father introduced me to this art since he basically was the person in charge of documenting (for pleasure) all family events. He almost never appeared on any of the photos, which is something that now happens to me too. I happen to feel comfortable staying as anonymous as I can behind a camera.
My mother was the one who organized all the prints in family albums in such a perfect and devoted way. She did it by order of appearance and even wrote small descriptive texts next to some of the photos. I really would love to have that craftiness and dedication with my work today. It was an act of love from her, which I appreciate so much to this day since she kept so many memories that shape the person I am today.
I remember my father shooting as well as developing and, through that, I discovered I could create my own art. I could decide what to frame and how to give it form to eventually hold it in my hands. This was a mind-blowing idea at that age (and it is to this day, even if we've grown so used to it). I also discovered that sharing these memories with other people felt even more gratifying. My dad then set up a darkroom at home and that was it, my attention was simply fully there. That red room/idea laboratory completely sucked me in.
I also started gathering clips of unedited home videos from friends and family and then editing them at home to make a one-piece (including music, texts, early 2000's transition effects and all) which I would then sell to them, or sometimes I'd receive symbolic money in return, and this became an exciting hobby I created for myself aside from having to do homework, which was of course never much fun. This made me happy, it made me learn the programs, it opened me to the world of storytelling through images. I could see it also made other people happy when they saw the final work, so I found a sympathetic side in it and, perhaps unconsciously, I decided this was the way... something felt right.
I photographed my dog a lot too, our backyard garden, empty glass bottles (first light/shadow plays), dead flowers, people downtown, whatever I came across.
There was so much exploration at home, but I always saw it as a hobby and never thought I could end up making a living from it. I did not even think about it being an option. With time, perseverance, and a lot of devotion to stick to what you love, it inevitably ended up being what I still do today.
This to me is probably the one thing in life I can proudly say I've done right (or at least feels right). As for the rest, I'm absolutely not sure. I only know this is the space where I feel safe in what I do and how I do it. It's a profession that has taken me so much further than I could've ever thought, with still so much to discover.
Who or what are some of your inspirations?
I've been inspired by the practice and philosophy of Yoga, by slowly integrating it into my life and personal values. It's helped me gain more information about myself and therefore aspire to be a better photographer, artist, and person. I always relate photography to Yoga since I've evolved simultaneously with these two practices working as one.
Yoga keeps me sane, clear, and able to work. The practice induces a lot of self-awareness. It has disciplined my mind and emotions. It molds my perspectives and perceptions. Without it, I don't think I'd be doing the visual work I do now.
"We don't see things as they are, we see them as we are." - Anaïs Nin
Poetry, literature, and other philosophies such as Taoism have also been part of the curiosity that I've been developing for some time now. In my good moments, I've blossomed with the fascinating teachings of nature that can come in many forms.
Confessional poetry is a particular style where the writer focuses on personal experience, psyche, and traumas in order to break open and make public subjects that can sometimes be uncomfortable, such as death or depression. I've found insights through this, especially with female authors and in relation to a woman's point of view of the world and its social challenges.
Following other photographers of course opens a whole frequency of motivation, technique, and style.
I think most of us can share the thought that the past is melancholic and unattainable. We sometimes wish to stay there as a form of escapism, and photography helps us pretend we can go back for a minute. I would say it's "a balm for melancholia."
Not only do we go backwards in time, but we also get the chance to view some of the vastness of this world. Which is something other than ourselves, for a change.
As photographers, being able to show someone else what we capture and create feelings around it could be described as empathic, which by definition is the ability to understand and share the feeling(s) of another. It's a good-hearted profession when done with honesty
How would you describe your photography style?
I would describe it as emotional and psychic. Sometimes pleasurably haunting and obscure. Sometimes uplifting as well… but never too optimistic.
What photography equipment do you use?
On digital, I recently just switched from a Nikon D800, my beloved camera that gave me almost 10 years of extreme use, to a mirrorless Nikon Z7II. It is much lighter and offers a much-improved image quality. I always use a 24-70mm f2.8 lens, which is a highly recommended multi-use kind of optic. I play a lot with zooming which is why I almost never stick to the 50mm one. The 45 megapixels also help to dive deeper without losing much quality when editing and cropping.
On 35mm film, which I only use occasionally, I have an old 1987 (my exact age) Canon EOS 650 that I inherited from my father and was the one I explored with as a teenager.
The use of film has evolved for me. Before I shot a lot on Ilford, especially black and white, I've now been experimenting with color (Kodak Portra 160 & 400) which is such a different trip.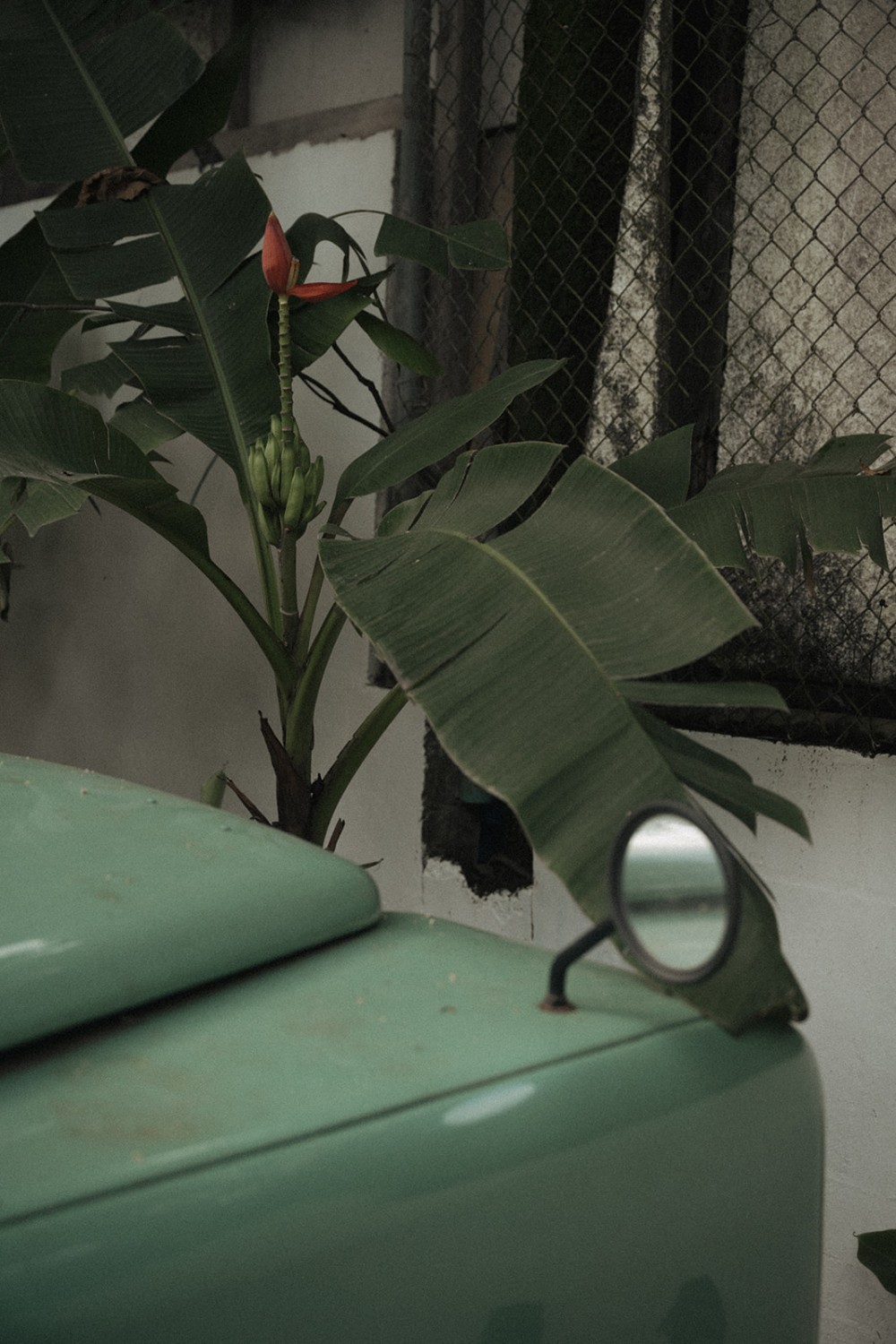 Can you tell us a little more about your process and thoughts behind the pictures you shoot? Nature and the ocean seem to have an important role in your creative process, can you tell us why?
Yes, I have a world of emotions behind what I do. As I've mentioned before, nature has become an extremely important subject that I play around with and explore. Photography, nature, literature, philosophy, Yoga... all these concepts become one, really. I have now come to a point where I don't consider them to be separate regarding my journey and when going for the unknown.
The ocean in particular has been my teacher and muse.
How could I not be trapped in its seduction? A lot of us are. I think I've slowly been enchanted by this relationship which has been nourished with time. It wasn't always like this. Before, I was kind of "used" to going to the ocean on vacation, with family, with friends, fortunate enough to be able to constantly do that around where I live. But I guess the constancy and devotion consequentially grew after always taking a camera with me, staying curious of course, sharing my experience with others, and eventually having people call me for work purposes on oceangoing adventures.
It's always been fun and exciting, but now it's become pretty personal. I don't think I should just go and get the job done. I feel I return home whenever I visit the ocean, wherever that is geographically. I know it sounds cliché to say that it gives me peace, but it really does. I have memories of my grandfather feeling absolutely wholesome when sailing, listening to classical music, taking us to nowhere-land, being held by nothing other than the forces of nature.
In time, I have come to understand that exact need of his to go nowhere and reset. It makes sense to take this need to the desert too, to the jungle, to the mountains, to where there's everything to play with, and where there's absolutely nothing, finding meaning either way.
What made you want to go to Costa Rica?
I feel I've been chasing meaning, this desire to know more. Costa Rica offers so much in biodiversity, the vastness of its oceans (Caribbean and Pacific), different atmospheres and environments all around. There's also a lot of consciousness around protecting nature, so I guess it's never a waste of time to be involved and be informed about how we can bring and practice these values back home. I was trapped by its charm from the first time I was there in Puerto Viejo, and then being called in by Zūnya when the project was starting to be physically constructed in the land. I definitely think Zūnya has tons to do with my interest in Costa Rica. I appreciate having been wanted there because of my work, a first and second time, with absolute freedom to create and cooperate with the project.
How was the experience of coming to Zunya? And how did it influence your creative process?
As mentioned, Zūnya has become a spark moment in my professional timeline. I've been able to experience my time in Zūnya as a collaborator and as an artist in residence (a short but valuable time), both similar but very different experiences. This last trip as an art resident, I felt a particular freedom and connection with the environment that I didn't feel the last time I was there. A feeling of going together with it, where any change of weather was perfect and any corner to visually explore was interesting. A lot of times we know we need the "escape," but we don't always genuinely feel it.
I wanted to ground my attention in that particular time of the year which was Summer, and to explore the meanings behind the season, by observing and physically being inside its atmosphere. Summer happens and manifests differently around the world. Every season can feel different, depending on where you're standing from. I wasn't pretending to find a described version of Summer which can sound like a time filled with light, happiness, and joy. That's dull, in my opinion. I was on a hunt for a personal, symbolic, and even psychic experience around the density of what a humid atmosphere can feel like.
This was all part of my creative process, to move outside my circle and study what happens inside and outside my skin, to make an archive of it, to put it down on paper, on images, and in my memory.
My big idea/project is still in the making and I consider Zūnya to have been a big part of the investigation process, not only around Summer as a season but around the entire concept behind the cycle of four. I gained a lot of comprehension regarding the reason why I'm talking about seasons in the first place. Despite having a lot of thoughts already written down, this time around Zūnya kept opening my analysis (which could be endless) around the effects that are revealed to us by the forces of the environment. These interview answers and reflections that I share today will surely be integrated into the book in some way. Every time I sit and write something new about this I find there are valuable words and ideas to be kept that will help shape the final work.
Can you tell us a little bit about the project you are working on?
My ongoing project "Seasons; A Spectrum of Creative Expression" was born out of this insight and "awakening" from having been around, basically. I realized I had consciously moved around long enough to be able to detect that seasons are inevitably always a part of us, no matter where, no matter when. Not only outside, but also inside. We, as plants and animals do, also bear the consequences of these natural changes when everything is happening all together, all at once. It's easy to think we are separate from the external, when in fact we are only just an extract of it, except we're too busy trying to figure ourselves out and a lot of times blinded by human-created concepts that don't even involve nature's course at all.
The point behind the poetry of this journey is to find the difference between the world as it is and the world as it has been illustrated before us. To step outside that linear way of thinking and enter a moving circle.
"Seasons; ASOCE" will eventually become a printed book based on emotions through translations from my own experience, from other authors as inspiration, and of course, a selection of archived photographs (through the years) that visually complement these thoughts.
"Everything goes, everything comes back; eternally rolls the wheel of being. Everything dies, everything blossoms again; eternally runs the year of being. The center is everywhere. Bent is the path of eternity."
― Friedrich Nietzsche
Can you share with us your Life Motto?
Nothing is permanent.